Our Big Blue Bus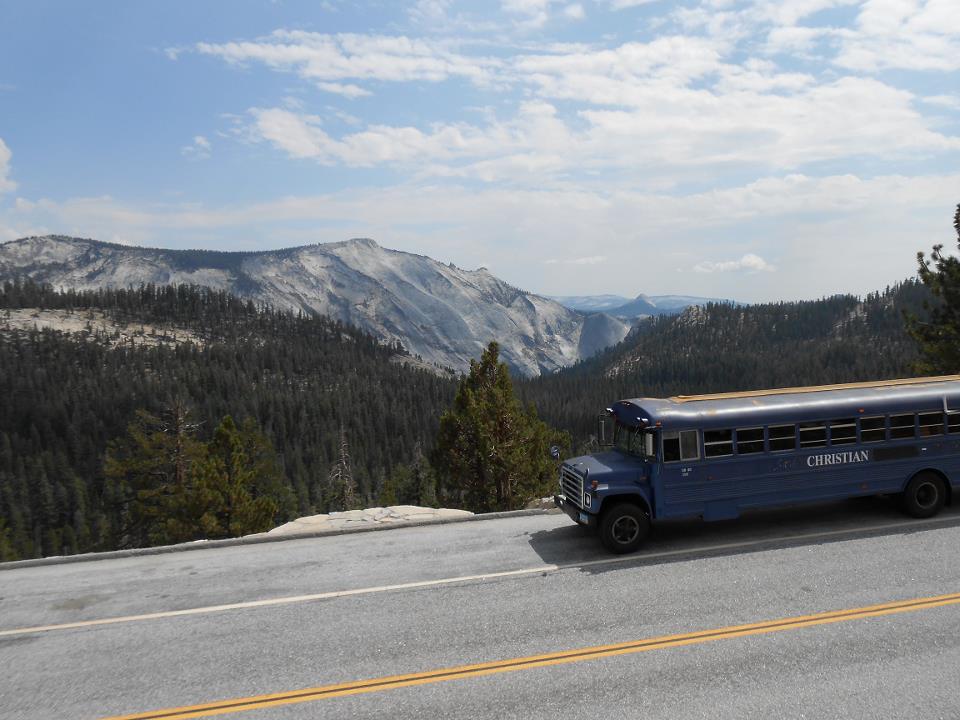 Summary
To make family road trips more manageable, we bought a school bus and converted it into an RV.
We Get Some Press
The Fargo Forum, the main newspaper in Fargo, wanted to do a story on people with customized campers. We were one of the three vehicles profiled. Read here: Forum Article.
Backstory
We have 3 children, all young enough to be in car seats. In 2011 we took a 3 week road trip in our mini-van. We had a few required stops on our trip, but generally we were very flexible on where we stayed on a given night and what we did on a given day.
This was a great trip; to most people the idea of being stuck in a van with 3 small children for thousands of miles sounds terrible. But we really enjoyed it. There were, however, some logistical issues that we felt could be improved.
Firstly, children need to get up and run around. And this requires space, for the kids, but security, for the parents. A fun part of the trip was pulling into small towns and finding city parks on our GPS, then taking short breaks at parks where kids would run around and be kids and adults would discuss the day's progress and goals.
But sometimes, there isn't a nearby park when its time for a break. The weather can turn on you, or the rest areas at the interstates can have a creepy vibe. And there's a fixed amount of space for toys and familiar things for the kids. So there was a general notion of needing more secure, inside space when we made stops along our journey.
One thing that added to the stress level of the trip was needing to eat at restaurants so frequently. We hate being "those parents" -- the ones with loud, unruly children. Managing 3 hungry children, who are all still developing their sense of "inside voices" and "frustration management" can suck the fun right out of a trip. Having a credible option to eat privately instead of publicly would save both money and stress.
Our youngest two were in pack-and-plays that summer, and any parent understands that kids need a lot of stuff. In the van, every night after a long day of driving, we needed to cart piles of stuff into a hotel room, set it up, and get kids to bed. The setup and acclimation had to happen while kids were getting into things that hadn't been kid-proofed yet, and when it was finally bedtime, the adults were stuck having to be elsewhere and silent. We eventually figured out that suites or adjoining room pairs made the hotel aspect of the trip much better, but of course, much more expensive, and much harder to find hotels along the route without prior reservations.
Finally, there is the issue of going to a bathroom. It's never fun to use somebody else's bathroom. Finding bathrooms on the road can also be... stressful.
So by the end of our trip, we knew that we wanted some kind of RV.
RV Requirements
Our van has a limited tow capacity -- 3500lbs. We looked at trailers of different sizes and types, but nothing that had enough room and facilities was light enough to go behind our current vehicle. To pull a 5th wheel or larger trailer, we'd need a better tow vehicle. But our tow vehicle would have to hold 3 car seats, which might technically have been possible with a new jumbo SUV or crew cab truck, but those are quite expensive.
Class A motorhomes are of course incredibly expensive. Smaller motorhomes, when used, can be affordable, but finding one outfitted the way you want is especially tricky. For us, the deal breaker was adequate child safety. Most motorhomes have 1 driver's seat, 1 navigators seat, and then some couches or dinettes. We required that all members of our family be seat-belted and forward facing, and the 3 kids be in the car seats, at all times when the vehicle was underway. We just didn't find any motorhomes that had sufficient seating and restraint systems.
Another point on motorhome safety: most people in the bus conversion crowd call conventional motorhomes "sticks and staples". If you look at how they are constructed sometime, you may come to the same conclusion. But if you ever see one in an accident, you'll certainly agree that you don't want to be in one during a wreck at highway speeds.
Bus Conversions
I'm not quite sure where I first came across bus conversions on the internet; it may have been a link to the steampunk bus (iirc, that guy does some other steampunk stuff, some of which may have shown up on slashdot or other geek sites). I actually knew about bus conversions prior to our 2011 trip, and so as we took that trip and noted the shortcomings, my wife and I started joking about "if only we had a bus right now.."
Bus conversions have some advantages over a conventional RV. Firstly, used busses are very affordable. They are usually built well, primarily out of metal. They have medium or heavy-duty drivetrain components and they are built to carry lots of heavy humans. Coach busses even have built-in bathrooms sometimes. School busses are built to keep children alive who aren't wearing seat belts.
Once you take the seats and other equipment (e.g. heaters or luggage racks) out of a bus, you have a nice open floor space to deal with. You can refit the space however you like.
School bus vs. Coach? What kind of bus?
Coach busses are more expensive and seem to be less common than used school busses. Coach busses are taller and longer, and so offer more interior room and more possibilities. Coach busses usually have a large "basement", that is, area underneath the bus floor. Coach basements are large to hold passenger luggage, and in bus conversions you need a lot of under-floor equipment like water tanks, batteries, generators, etc.

However, there are some disadvantages to coach busses, besides their higher initial cost. The extra size can work against you anytime you leave the interstate. Coach busses have poor ground clearance and aren't suited to marginal roads. This can be a serious consideration if you will be driving down section line roads in farm country, or if you want to take unpaved roads in government parks.

Ultimately, we opted to look for a cheap, commonly available school bus with a shorter wheelbase and higher ground clearance. My wife is taller than I am, so it was critical that we have _enough_ interior height, but any height beyond that would just limit where we could go.
Desirable qualities in a school bus
I am a big fan of manual transmissions, and another point in favor of the school bus is that you can commonly find older ones that had manual gearboxes in them. After doing research on bus conversion forums like skoolie.net, I concluded that I wanted a "conventional" style bus, with a DT466 turbo diesel engine, a manual transmission, and hydraulic brakes.

Hydraulic brakes are what normal cars have. Some busses have air brakes, which is what larger trucks and semis have. Air brakes are what you hear when trucks start or stop. I am comfortable working on hydraulic brake systems and understand them. Air brakes are something I have no experience with, and apparently they are not self-adjusting. So, that didn't sound fun to me :)

The DT466 is an in-line 6 diesel engine made by International Harvester (now Navistar). The basic design has been around since at least the 70s, and still ships today as the MaxxForce DT. This is a medium duty engine and internet reports indicate that it is used in tractor pull competitions at well over 1000 horsepower. In school bus trim, 190hp and 500ft/lbs of torque was a common configuration. The engines are highly reliable and very common, making them good candidates for my first adventure with medium duty trucks (which is what a school bus is). Finally, the DT466 uses replaceable cylinder sleeves, a feature commonly found on heavy-duty trucks and off-road equipment. The upshot of this is that you can rebuild a DT466 without removing the motor, making engine overhauls more affordable.

School busses come in a few body configurations. Besides the obvious long/short/medium lengths, there are conventional busses, which have the engine, hood, and front axle ahead of the windshield, and flat-front busses. Flat-front busses further can be divided into front engine and rear engine setups.

I wanted a full-length conventional bus, which would give me 1 door at the front and 1 door at the back, and where the engine wouldn't occupy any of the interior space, and where the engine would be easy to access and work on.

It turns out that the configuration I wanted -- DT466 engine, manual transmission, conventional full length body, and hydraulic brakes, was a reasonably common configuration in the 1980s. After a few months of searching, I was able to find one about 2 hours away on craigslist. It's a 1986 International S1853 with a Thomas body.
Conversion Goals
Based on our previous road trip experience, we had a few high level goals for a conversion
A seating area for the whole family, that had car-like levels of safety
An area for preparing meals
An area where children could sleep, and which wouldn't require setup at night and tear-down in the mornings
A place to use the bathroom
Room to move around inside
The ability to cook, use the bathroom, use electronics & the internet "off grid" (e.g. without hooking up to an RV campsite) for 1-2 days at a time. In RV talk, using our RV without any kind of hookups is called "boondocking", as in, you're out in the boondocks where there's no water or electricity :)
The main difference between our requirements and what most people have is that we wanted a proper seating area for when the vehicle was underway. The interior space of the bus is 7.5ft wide, and 30ft long from the back of the driver's seat to the back door. Putting in permanently mounted forward facing seats takes up a substantial amount of room, but having this feature is the main reason we didn't just buy a pre-made RV. (Admittedly, doing a bus conversion is _cooler_ than just buying an RV, but now that I've been through the experience, buying one would have been cheaper and certainly easier. I just wouldn't have been as satisfied with the outcome.)
To try and understand the available space, I started using computer software to model the floor plan and the interior of the bus. This was a first-order sanity check on if we had a workable layout or not. I use "Sketch-Up", which at the time was owned by Google. If you watch the online tutorials, it is excellent for casual-use users like myself. I can draw things intuitively but enter accurate dimensions taken from measurements I made from real objects. There is also a large library of pre-made models that you can import into your drawings. The seats, sink, and toilet, for example, are pre-made objects I merely imported into the drawing.
Here is an early sketchup drawing of our conceptual plan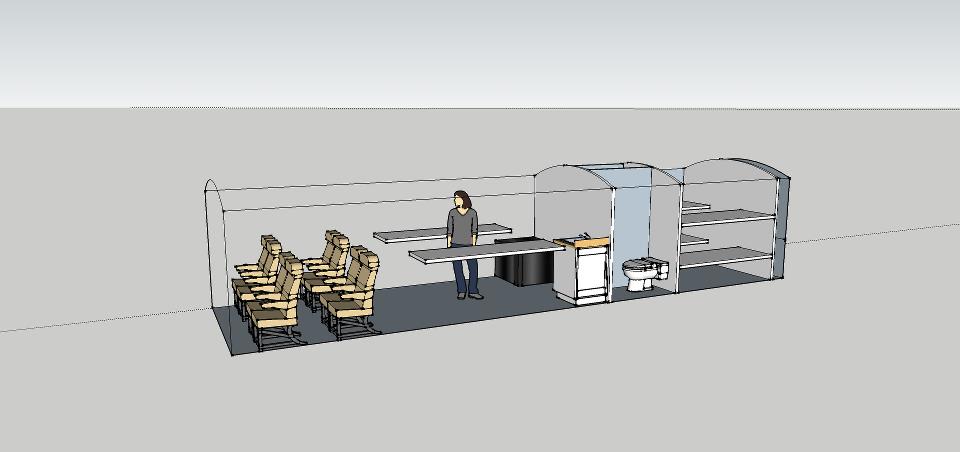 I'll explain the floor plan features, moving from left to right.
We have two rows of seats. Each row contains 4 seats. There is a center aisle between the rows
There is a small unused space prior to the galley style kitchen. This can accommodate a 3rd row of seats in the future. This area got bigger and evolved into our "multi-use" space - a play area during the day and the adult sleeping area at night.
A galley style kitchen, with counter tops on both sides. The woman standing in the kitchen is actually not meant to be an overt act of male chauvinism; when you create a new drawing in Sketchup, the female human is placed in the drawing at the origin. So Sketchup puts the woman in the model; although I am guilty of moving her to the kitchen :)
After the kitchen counter tops, I modelled a sink on one side and a fridge on the other. In the actual bus, we moved these to actually be in the kitchen
A thin partition wall, and then the bathroom starts. On the driver's side of the bus there is the toilet/WC, and on the passengers side, there will be a shower.
Another partition wall, to fully enclose the bathroom(s) on both sides
A bunk room. This is the area where children will sleep
A final partition wall
A roughly 18" long "trunk"; this is space between the bunk room and the rear exit of the bus. In the same way that your house may have an entry room, our design calls for a separate room in the back to store coats, shoes, and "junk" in that is separate from the sleeping space.
Some observations on this plan: First, the children's bunk room is separated by the bathroom and kitchen from the "multi-use" area behind the seats. This multi-use area is where we actually setup a convertible bed for my wife and I. It's good for everyone if the kids and the adults have some space between each other when kids are supposed to be sleeping.
Furthermore, there is a center aisle/walkway that runs the full length of the bus. In the drawing the partition walls have no doors/openings, but that's because I didn't draw them in. In reality, one can walk from the front door to the back door down the center aisle, although there may be some doors or curtains to navigate through.
Realizing the Plan
2011
The bus was acquired late in the fall of 2011. We began work on removing the seats and getting rid of most of them. Then we put the bus away for the winter.
2012
We got the bus out of storage in April of 2012. Early work included repairing brake parts and doing more seat removal. The the real conversion took place primarily in July of 2012, and we took a 3 week trip in August of 2012. The trip was quite successful and the bus performed well.

When we left town, we had the major features of the plan implemented, but not in a way that precisely matched the picture. We didn't build any partition walls; instead we had partition curtains. We didn't build bunk beds yet; our twins stayed in their pack and plays which we we left setup and secured while under way. Our older son slept on a mattress on the floor. This seemed to work out just fine, although for 2013 we expect to have bunk beds in the bunk room.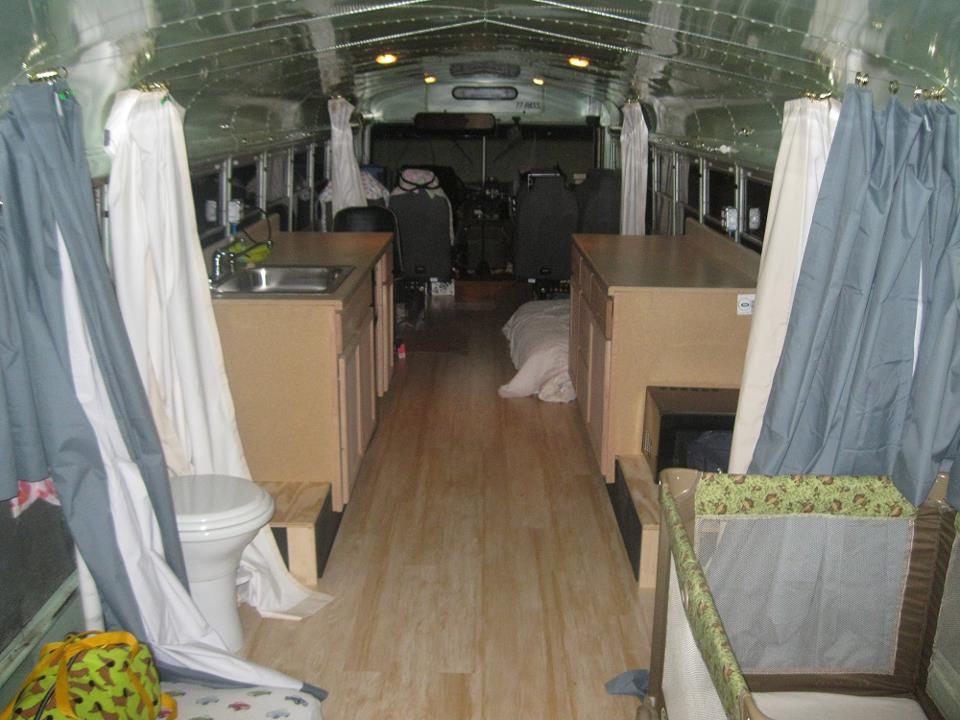 This is a view from the back of the bus looking forward. You can see the mattress on the left and one of the pack-and-plays on the right. You can also see the partition curtains in their stowed position. Moving forward you can see the toilet on the driver's side, as well as the galley kitchen. At the far front you can see the seating installed.
We had a few issues while underway:
concern about overheating and a pinhole coolant leak. Ultimately we never had an overheat, and we did a considerable amount of mountain driving in 90F temps.
a broken throttle return spring. We pulled off the highway and I bought a new spring at a truck store, and installed it in the parking lot
Brake line failure. In a hydraulic brake system, there is a mix of flexible hoses and hard metal pipes that the brake fluid moves through. This bus was old enough that some of the hard lines had failed, leading to leaks in the brake system. Luckily the bus has a dual channel system; you can lose the rear brakes entirely but the fronts will still work normally. Prior to the trip, I had replaced the main hardline that goes all the way to the back axle, and the brakes felt great. However, during the trip, I made a panic stop and ruptured a different brake hardline. This disabled the rear brakes, and we were in mountain country so it was a poor situation. Luckily we were near a town with a NAPA store; they had pre-flared brake hard lines that had compatible flares and connectors. I bought a tubing bender and some pre-made lines, and then bent a new line and installed it right there in the NAPA parking lot. My wife made dinner and fed the kids while I was working -- the ability to do serious cooking off-grid came in handy that day since NAPA doesn't have RV hookups typically :)
Noise And Smell. After removing the interior, sound and fume intrusion from the engine bay into the passenger cabin got worse. I knew the bus would be loud and applied some sound deadening paint and some other automotive sound deadener products, but ultimately, there were some gaps that let in air at highway speeds. This made for too much noise and too much exhaust smell. We bought a CO meter from Wal-Mart and carried it in the passenger compartment. Luckily a school bus has plenty of windows and we left all of ours accessible and operable. We opened windows as necessary to manage airflow while underway.
2013 Progress
Built and installed bunk beds
Rebuilt floor in drivers compartment, and installed gaskets around engine cover to help with noise and odor
Repaired some of the holes in the firewall to help with noise and odor
Installed reversing camera
Installed SeeLevel 712-P holding tank monitoring system
changed out master bed for an Ikea foam mattress, and used bungee cords and eye-hooks to make it a Murphy Bed
Conversion Details
If you're interested in what the conversion process involved, and what decisions were made for the major systems of the bus, these links will provide more detail and photos